IRCTC Registration : Today I am Going To Give You Some How To Tips And This Is Very Important For Every Indians To Know How To Create an Irctc Account To Book Railway Ticket Online.Now a Days Government Is Too Promoting Online Transactions With its Schemes Like Lucky Grahak Yojna and Supporting Cashless Transactions. Online Railway Ticket Booking Is No More Strange So To Book Train Seat You Must Have a Valid Irctc Id. Booking A Railway Tickets Gives You a Lot Of Comfort and Save You From Standing in Long Queue Before The Reservation Counter.Irctc Is Charging a very Lowest Service Charge Of Rs 22-23 Rupees and For Online Reservations.So Why Not To Have A Irctc Account As it Helps You In every where and anywhere in this Advanced technology era.
As If You Goto travel service agent they will charge much extra amount in booking normal and tatkal tickets.But i am sure you can easily book online reservation by yourself after reading my this tutorial.
Things To Know Before IRCTC User Registration
Individual registration is free.
Valid mobile number and valid email id are mandatory to register as individual user.
Please click on sign up link on home page of https://www.irctc.co.in
How To Create IRCTC Account Through Railway Website
2. You Will Get Signup Form Like Below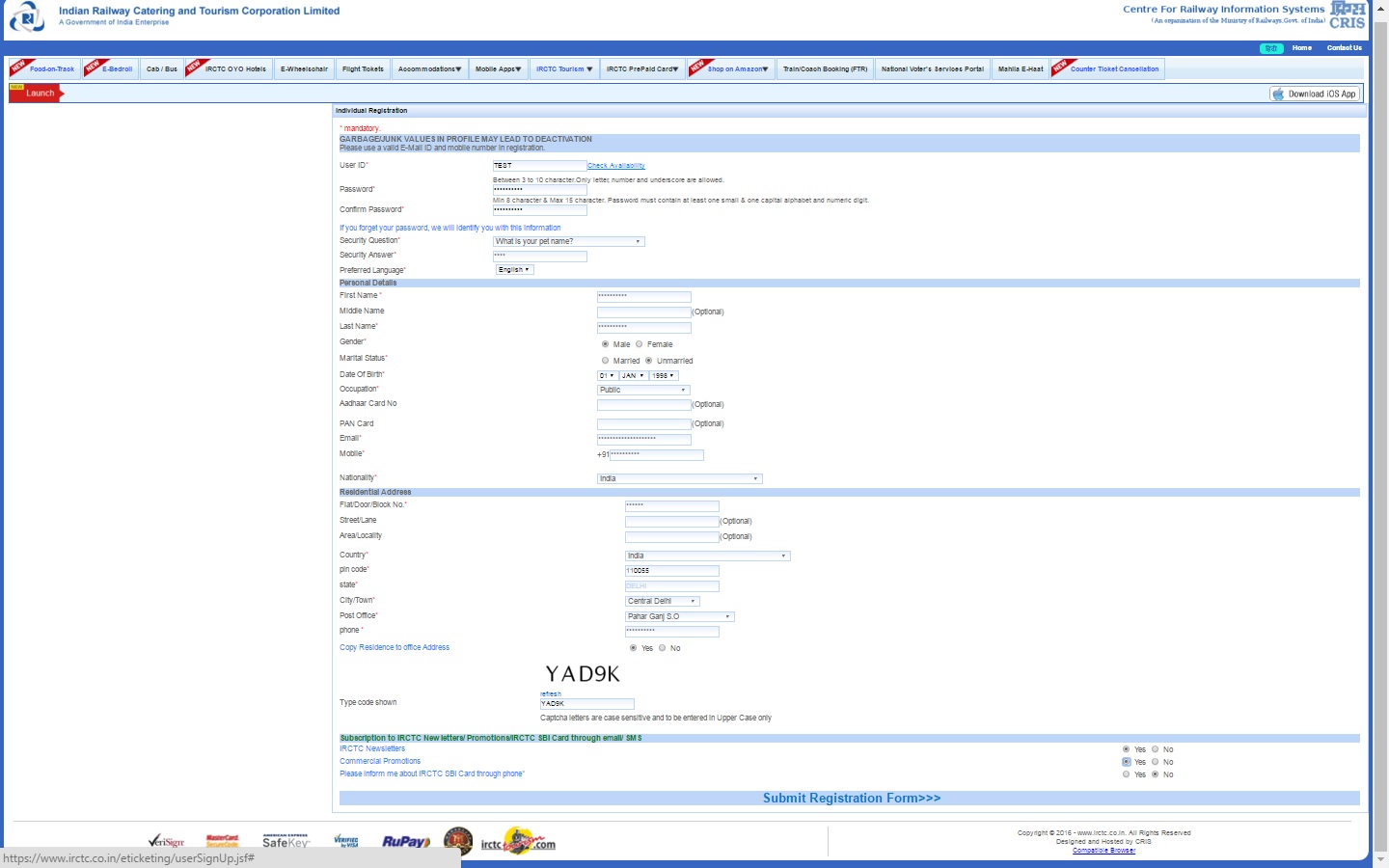 3. After clicking on "Submit" button a pop up will appear as follow: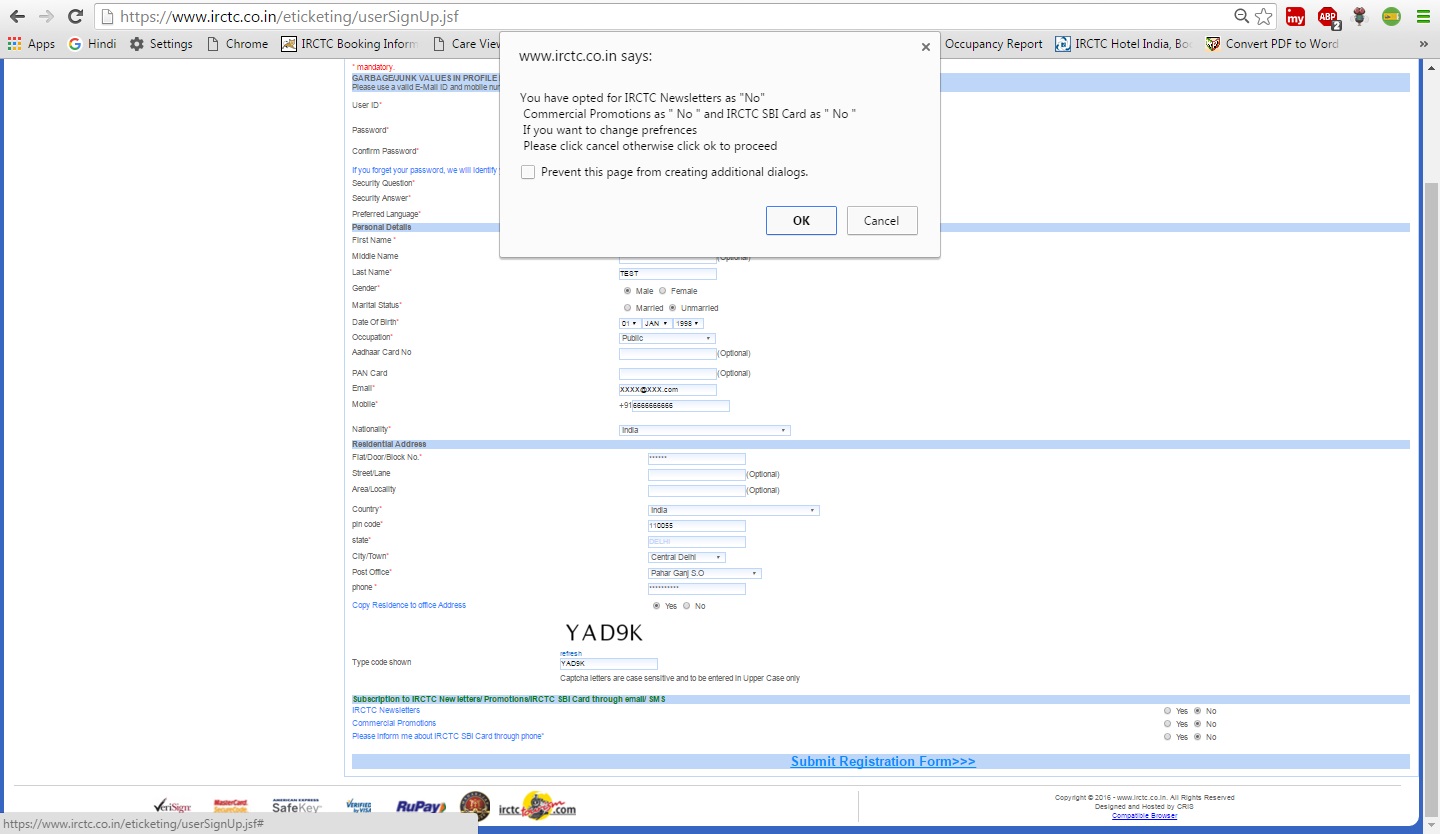 4. If the entered email id and mobile number are correct click "OK" button to proceed further for registration.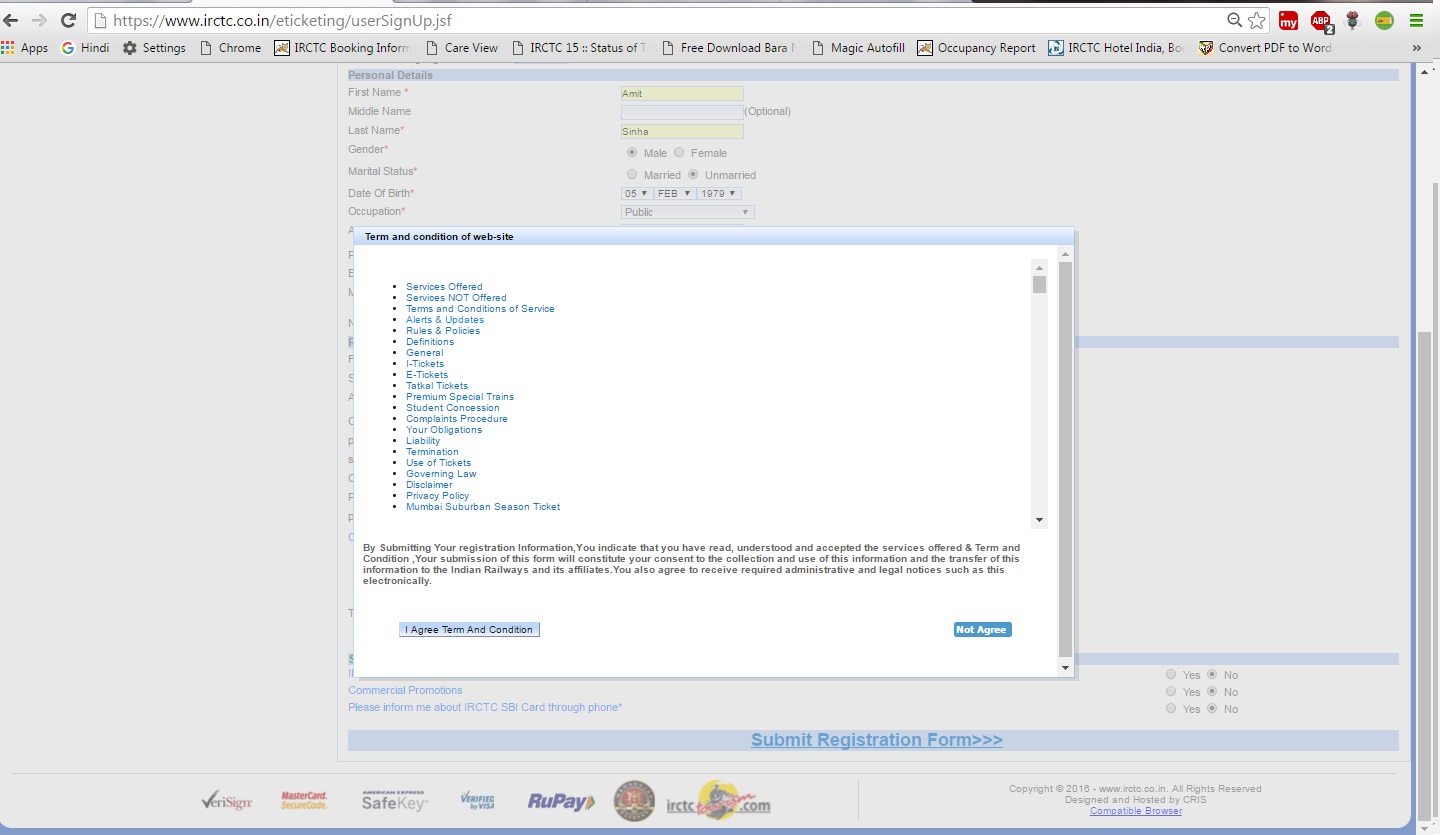 5. Click on "Accept" button to accept the term and conditions of irctc.co.in
Dear User,
Welcome, We thank you for your registration at IRCTC' s Online Rail Ticket Reservation website.
Your user id is XXXXXXXX
Your Password is as you select at the time of registration
Please Click Here to login in your account
You will use this user id and the password given above for all your transaction on www.irctc.co.in. The user id cannot be changed and hence we recommend that you store this email for your future reference.
If you ever forget your password in future, you can use the 'Forgot Password' link available on the Home page of the site. We understand that you have read and agreed to the Terms and Conditions as applicable for transactions on our site. You can now make up to 6 rail reservations (up to a maximum of 6 passengers per ticket) in one calendar month. We hope to offer you a uniquely pleasant experience in planning and booking your journeys with the Indian Railways. We look forward to having you use our services regularly.
IRCTC Customer Support
For any enquiries or information regarding your transaction with IRCTC, do not provide your credit/debit card details by any means to IRCTC. All your queries can be replied on the basis of 10 digit IRCTC Transaction id/ PNR no./User id. IRCTC does not store the credit/debit card information in any form during the transaction.
Login To IRCTC Railway Ticket Booking Portal
Login through the user id and password select at the time of registration.
Put the OTP received through mail. The page appears as follows:(Email verified successfully)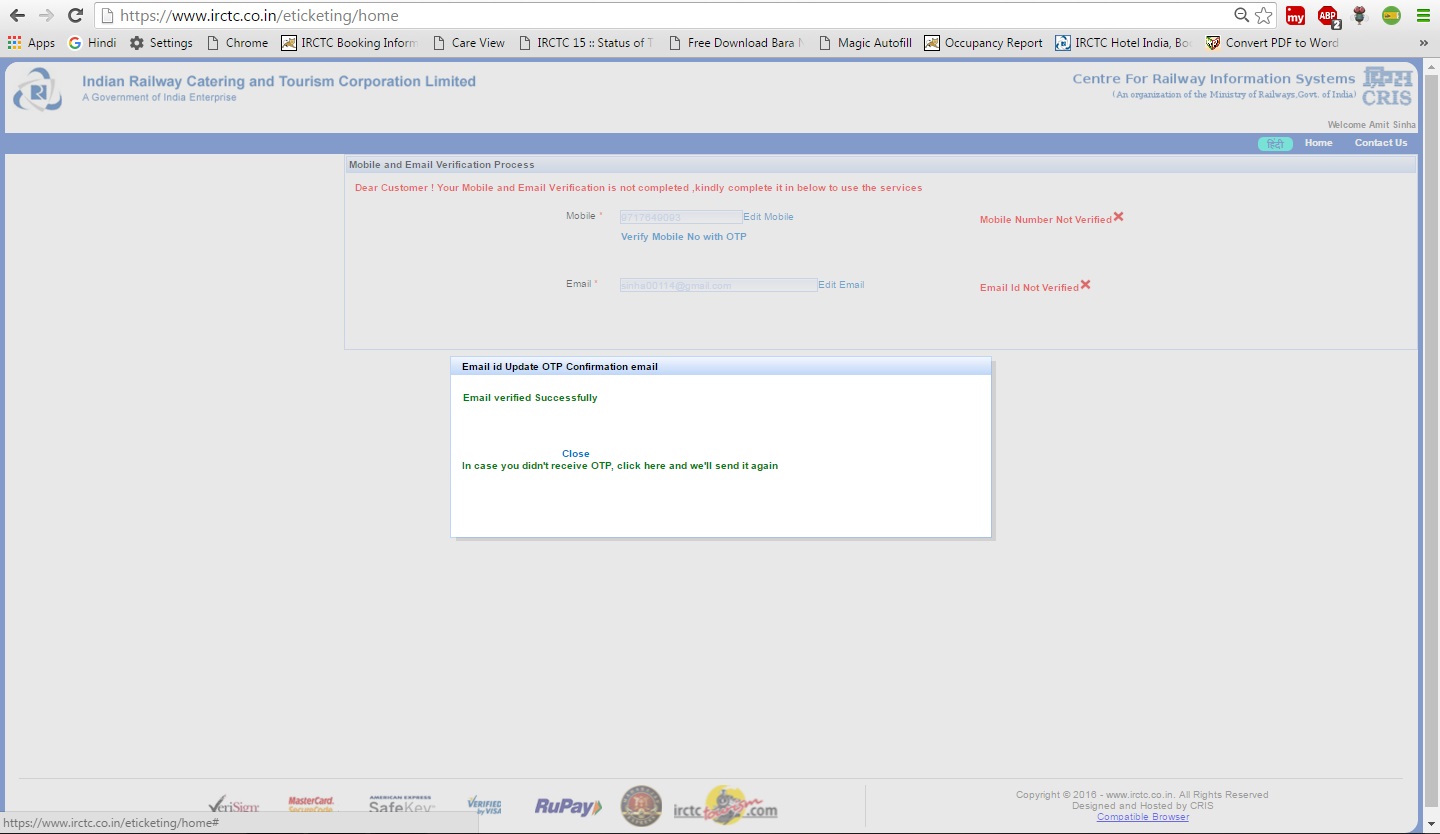 Showing page as Email id verified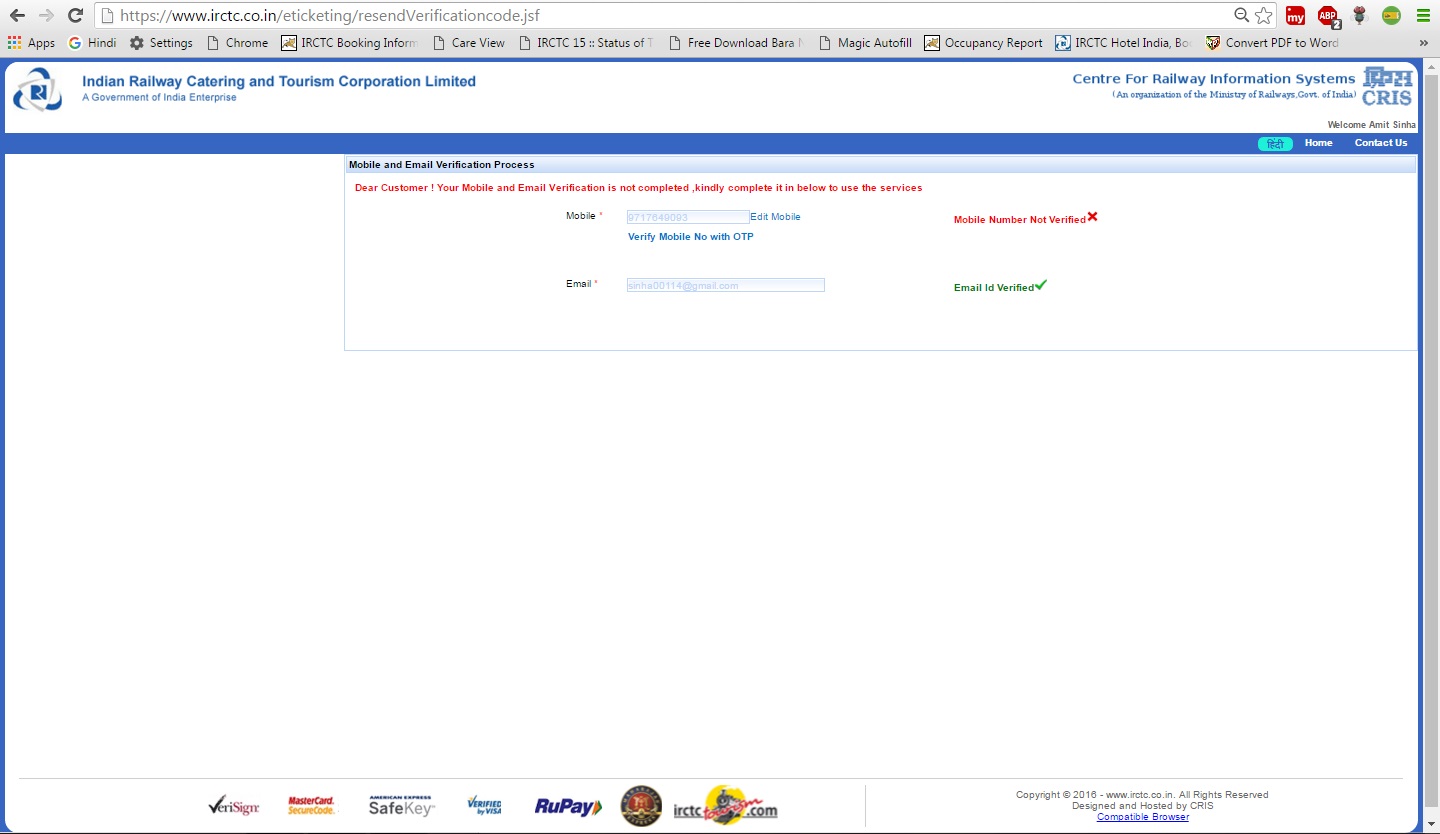 Verification of mobile number by entering the verification code received on mobile.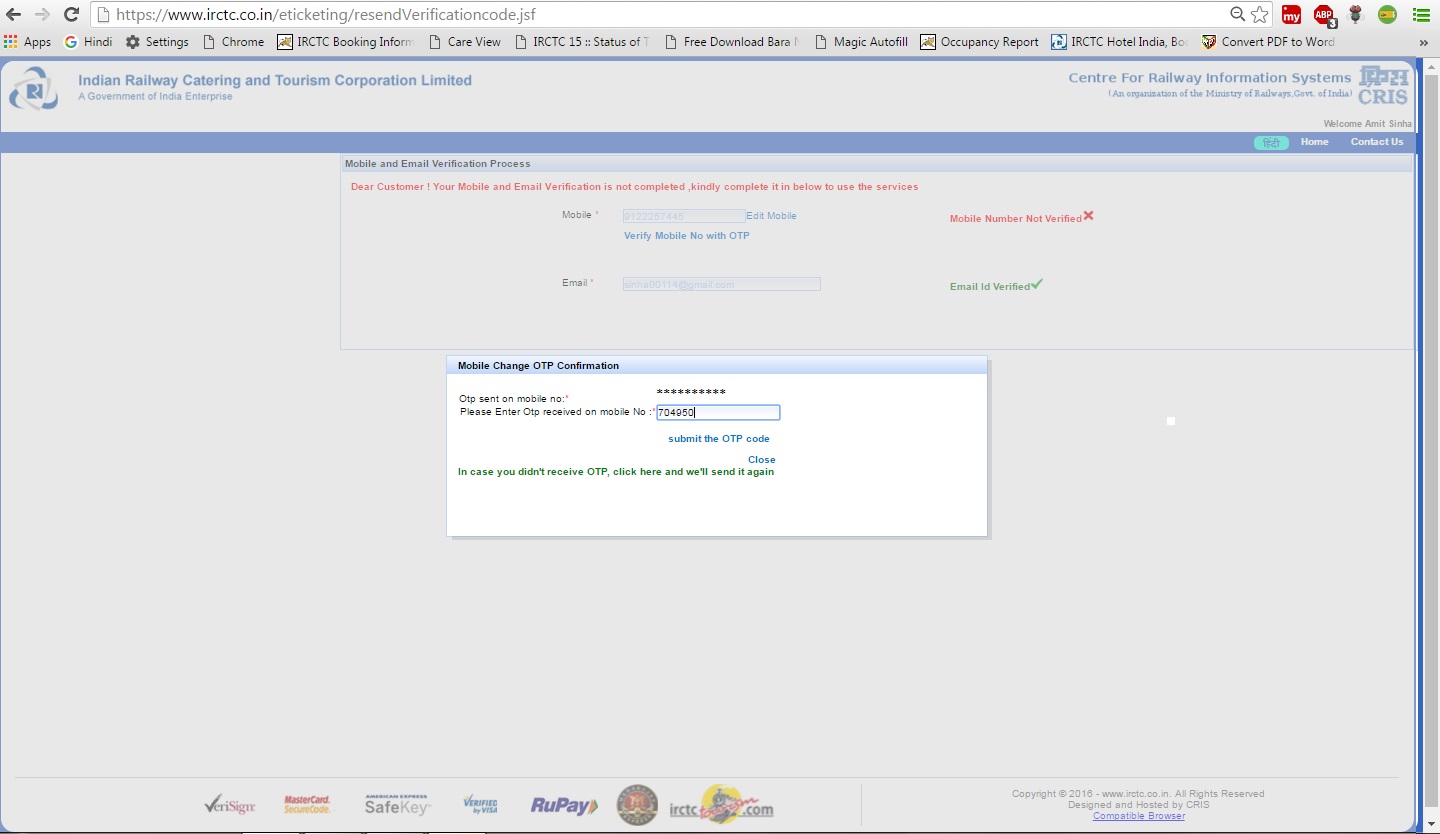 Showing page as Mobile verified successfully.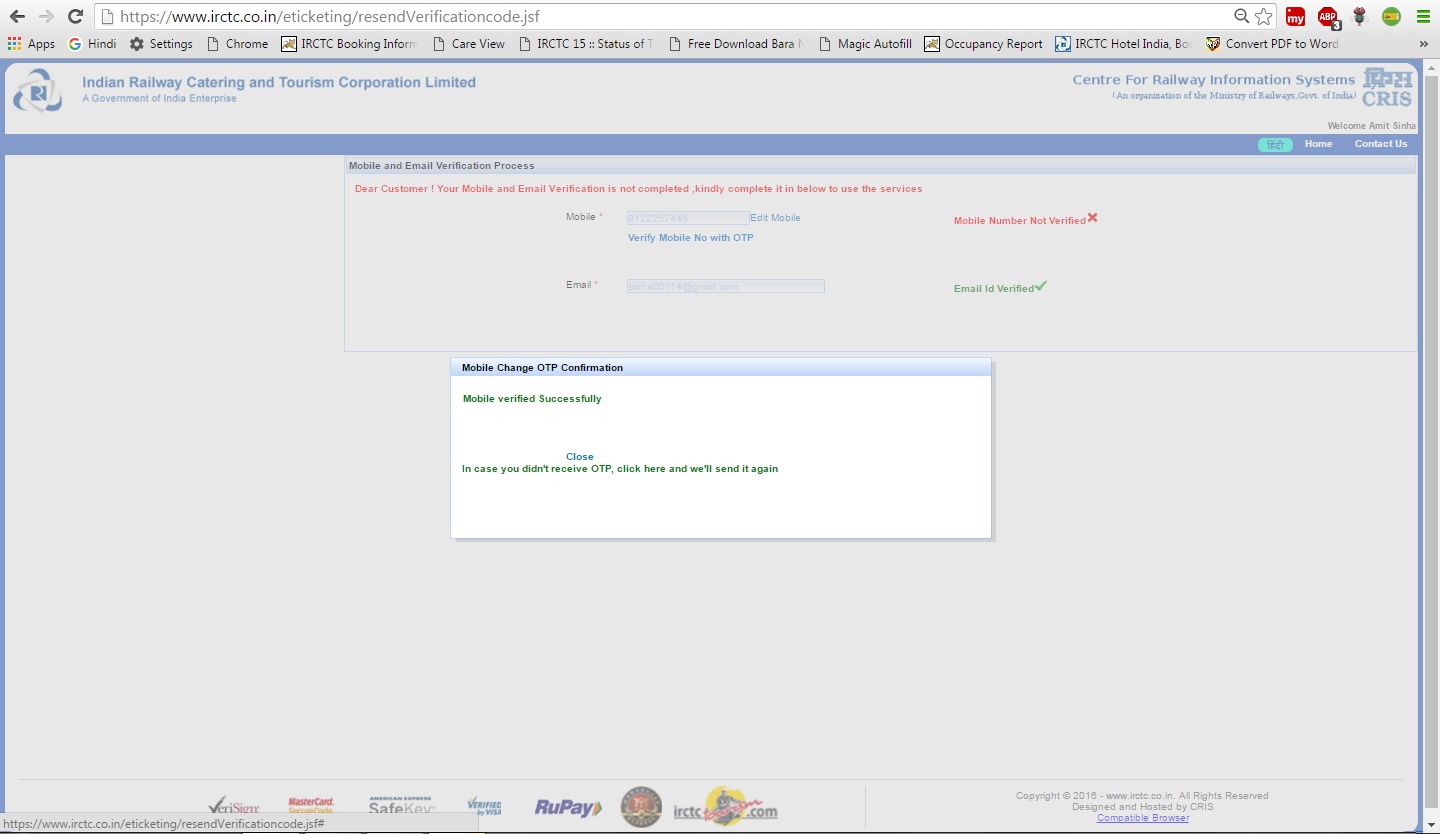 After email and mobile OTP verification, message "your account has been verified click here for login" will displayed on the page.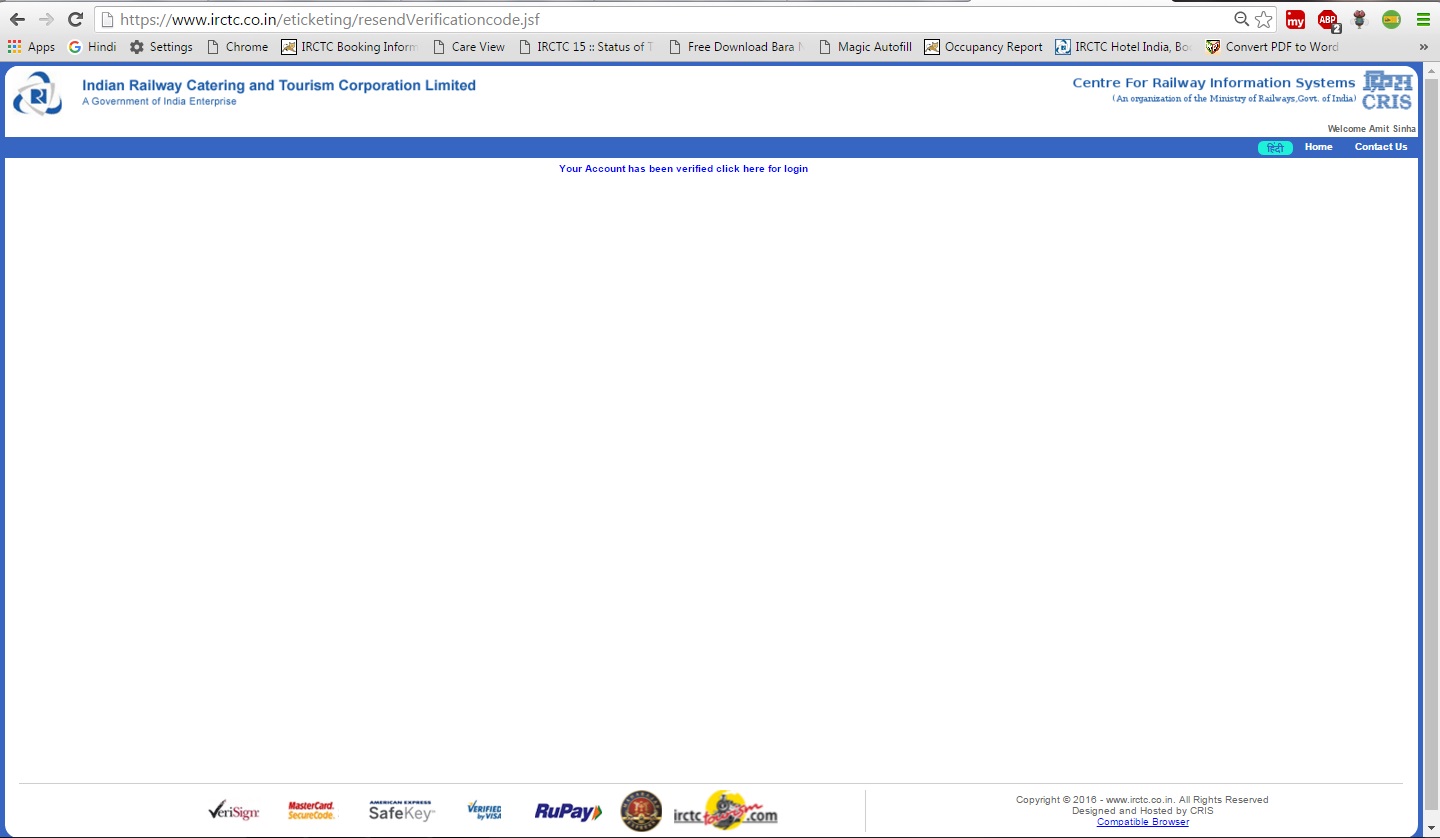 Comments
comments